Haleigh's background is in digital marketing, social media and design. However, she's run a bar or two of her own in her day! From creating cocktail menus to pouring ales late into the night to the sound of lively Irish bands, Haleigh knows the world of imbibing inside and out.
Cody has over 15 years experience in the restaurant and bar world. From serving and managing, to creating cocktail and wine menus for multiple restaurants, Cody has been honing his craft and creating delicious libations that have become celebrated recipes over the last several years.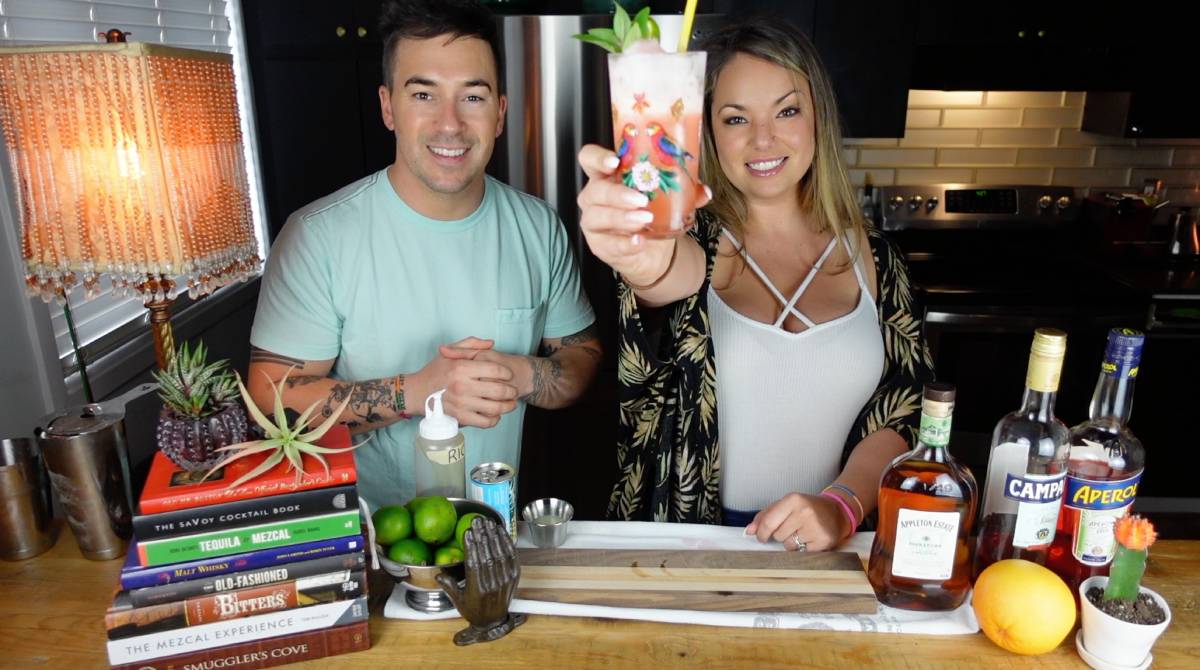 Interview with cody & Haleigh
Let's Get to Know Cody & Haleigh Brown
---
Can you share a short story of how each of you started in the bar industry and eventually met then got married?

Haleigh tended bar for 10 years, starting in college. Her most recent gig was at Mac McGee Irish Pub in Roswell, GA which she helped open and eventually wore many hats - bartender, social media manager, website designer, cocktail menu design and curation, head of training, and live music booking. This is where her passion really began developing and she's been in food and bev in some capacity ever since. Cody worked several bar jobs on and off over the last decade, but it never became a passion or a craft or a career until his met his bar mentor, Marcus. Marcus had opened several bars in Manhattan and on Long Island and taught Cody the actual craft of tending bar, instead of just slinging drinks. Once Cody learned the real ropes, he went full speed ahead and became beverage director of a metro Atlanta restaurant group. We first met in 2009 on a trip to Spain. Cody was with a GA university study abroad program and Haleigh was visiting her college roommate who happened to be on that same program but from a different school. We met, went out to a bar for Ron Colas and the rest is history. Our first technical date was in Lisbon, Portugal and 6 years later, he proposed to me in Paris, France, so needless to say, our very foundation has been built on exploration, travel, food and drink and we wouldn't change a thing.

You guys are offering cocktail lessons. Why should we take your cocktail lessons compared to others who also offer the same?

What sets us apart from others is our unique approach to teaching. We don't believe in the pretentious unapproachable attitudes you often see from professional craft bartenders. We are passionate and truly believe in the art of hospitality, a concept that often gets lost in today's world of trendy bars and overly complex cocktails. We bring cocktail education to the world in a way that is fun, entertaining and most of all, easy to understand. We've learned so many lessons during our combined 20+ years of experience behind the bar… there are too many to count. But we agree the biggest lessons to know would be: learn how to adapt and cater to your clients, learn how to make people feel a certain way, and most of all, make people feel welcome. Make it memorable. Make it fun. Make it delicious – that's the recipe for a good bartender. Home Bar Network is all about #RaisingSpirits both literally and figuratively.

We noticed that you both traveled around the world honing your skills in crafting cocktails. What countries were the most memorable for you that you learned a lot and used that wisdom in your own business now?

Oh man, this is tough. Definitely Singapore. We had the honor of going to Employees Only, a cocktail bar we had fawned over for years since their inception in New York City. Those bartenders have it all - skills, creativity, and most of all, hospitality. The gentlemen behind the bar remembered our names 30 DAYS LATER when we came back for our 2nd visit. Amazing! Havana, Cuba also sticks out as we were able to follow in Hemingway's footsteps sipping mojitos and daiquiris at the institutions who created them, La Bodeguita del Medio and La Floridita, respectively. Tulum, Mexico really opened our eyes to what a frozen cocktail can be - they used only the freshest fruit in each batch, carved at the time you order. Harry's New York Bar in Paris really sticks out too. I'll never forget the way our veteran bartender prepared our bloody marys at noon with utmost precision. It was like a dance. There's really too many moments to share, you'll have to take one of our classes for more. 😉

What are the biggest achievements you both have achieved in this industry?

Cody's Old Fashioned was published in Eater Atlanta as the best in the city. Haleigh helped spearhead the growing digital footprint of Tennessee Whiskey brand, Uncle Nearest, serving as their Social Media Director from May 2018 - April 2021. Together, our biggest achievement is going into business together to build our dream - Home Bar Network.

What are the worst mistakes you both have experienced and don't want others to do anymore.

Shaking a Manhattan! PLEASE STOP. And speaking on Manhattans, it's astounding how many bars STILL leave their vermouth on the back bar. PLEASE REMEMBER, vermouth stays in the fridge. It is fortified wine and it will spoil if left out.

How do you both stay updated with the current trends in the industry?

We read liquor.com, punchdrink.com, imbibe.com and others. Talking with distributors and reps for different brands always keeps us in the loop, too.