I am a self-trained home mixologist and chef. I love learning about and experiencing these crafts at home and my passion is creating new drinks and dishes to share. I especially enjoy when elements from the kitchen make their way into the bar.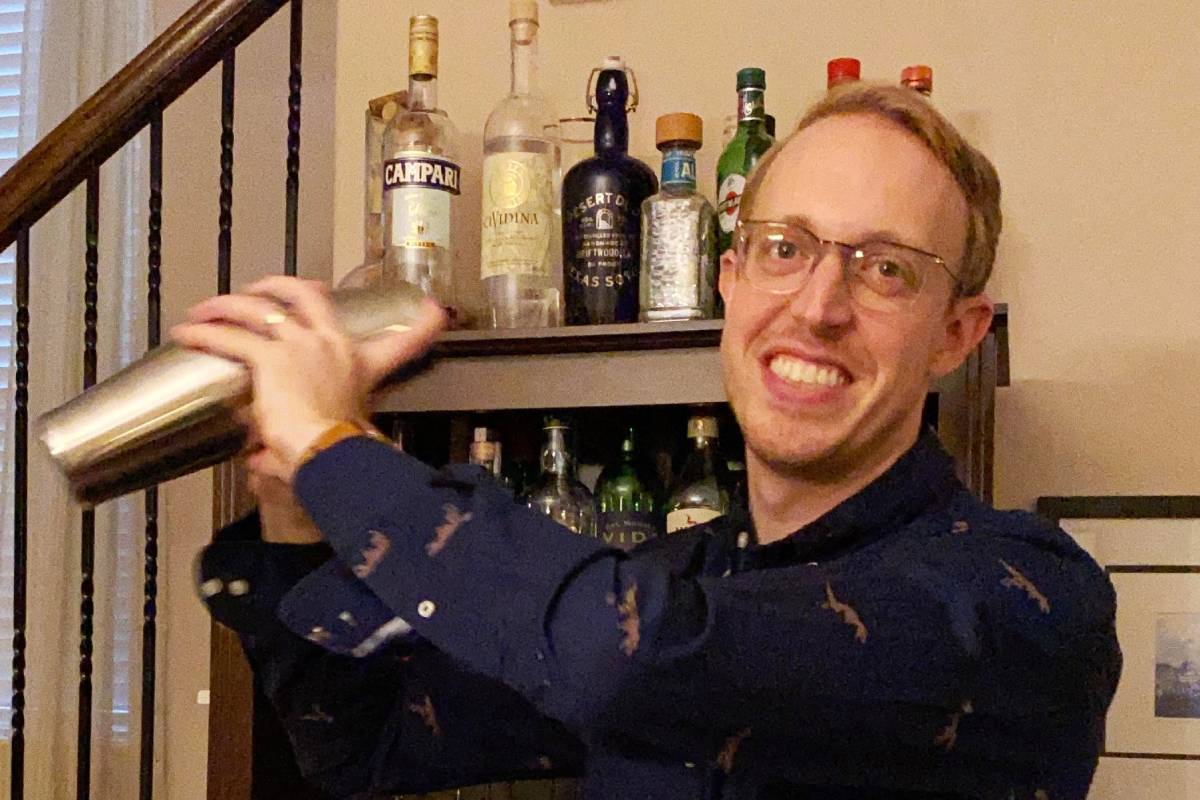 Let's Get to Know John Berens
---
When did you start bartending | Where are you currently bartending?

I am a completely self-taught home "bartender". I grew up around a family that valued good food and trying new things, so I have enjoyed my role as the primary coUok in my own family. Once the pandemic hit and I had a lot more time at home, I realized how much I enjoyed translating my knowledge from the kitchen to the bar.

Why do you enjoy home bartending?

I enjoy creating drinks at home because it allows the boundaries of cocktails to be pushed. Since the normal constraints of time and efficiency are not at play at home the way they are in a bar, it allows for more creative expression and experimentation. I have also really enjoyed the community aspect of Instagram-- there are a lot of professional and amateur mixologists out there who are generally very supportive and make the whole process more fun.

How did you learn everything as a self-taught mixologist?

I have learned from a variety of sources, including freely accessible websites/blogs, mixologists on Instagram, online courses, and books. My favorite book at the moment is Cocktail Codex from Death and Company because it not only has a ton of incredible drink recipes, but also provides a really helpful conceptual framework on how to think about cocktails. If there is a technique or style you want to learn, there are so many ways to do so!

Your favorite cocktail to make

This is a tough one and is largely dependent on my mood. I love a good stirred cocktail like something from the Old Fashioned or Manhattan family, but some days a Southside is where it's at.

Tips you would give a new bartender, or someone wanting to get started?

The best advice I can give someone just starting out is to just keep practicing and learning. Try making classic drinks you haven't tasted before. Start customizing your own drinks with a simple riff, like using different syrup or type of bitters. If it doesn't turn out right, think about what needs to change and try it again. If you come across a technique you haven't used before, give it a try. And don't be afraid to try something that sounds unconventional-- you never know when you might stumble across something amazing!

Where can people find more about you online (social media, website, blog)

At this time, I post all my content on Instagram @johneatsanddrinks.

Can you recommend another friend or family member who belong to the industry also and worth featuring as well?

One of my favorite accounts is my buddy Ryan (@highalcoholcontent). His craft and innovation is on an incredibly high level and I am always astounded by his drinks. His page is definitely worth a follow!