Beautiful Booze
Founder, Creator, Cocktailian, Photographer, Author, Influencer & Social Media Maven
Beautiful Booze's Natalie Migliarini is one of the most influential voices in cocktails today. She's passionate about cocktails, education and empowerment, and sharing her journey with others through her drinkable moments around the world on her Instagram @BeautifulBooze. She has a particular aptitude for discovering unique and inventive approaches to conceiving exceptional concoctions and occasions. She began her journey as a home bartender yet has advanced over the years and developed additional specializations, including cocktail styling, journalism, social media consultation, event bartending, and so much more.
Natalie made the decision to leave her comfortable career in 2013 to pursue her passion for cocktails full time. It all started while she was hosting dinners and parties at her home; she was developing creative liquid concoctions for her friends and family, and each evening her guests were inquiring about the recipes. Just like that, Natalie started Beautiful Booze, a website where her friends could easily access her recipes and re- create their favorites from any evening. In the years since, her audience has grown exponentially. Natalie is thankful to everyone for their support and for the opportunities that have come along with the success. She has a book coming out on August 25, 2020 Beautiful Booze: Stylish Cocktails to Make at Home.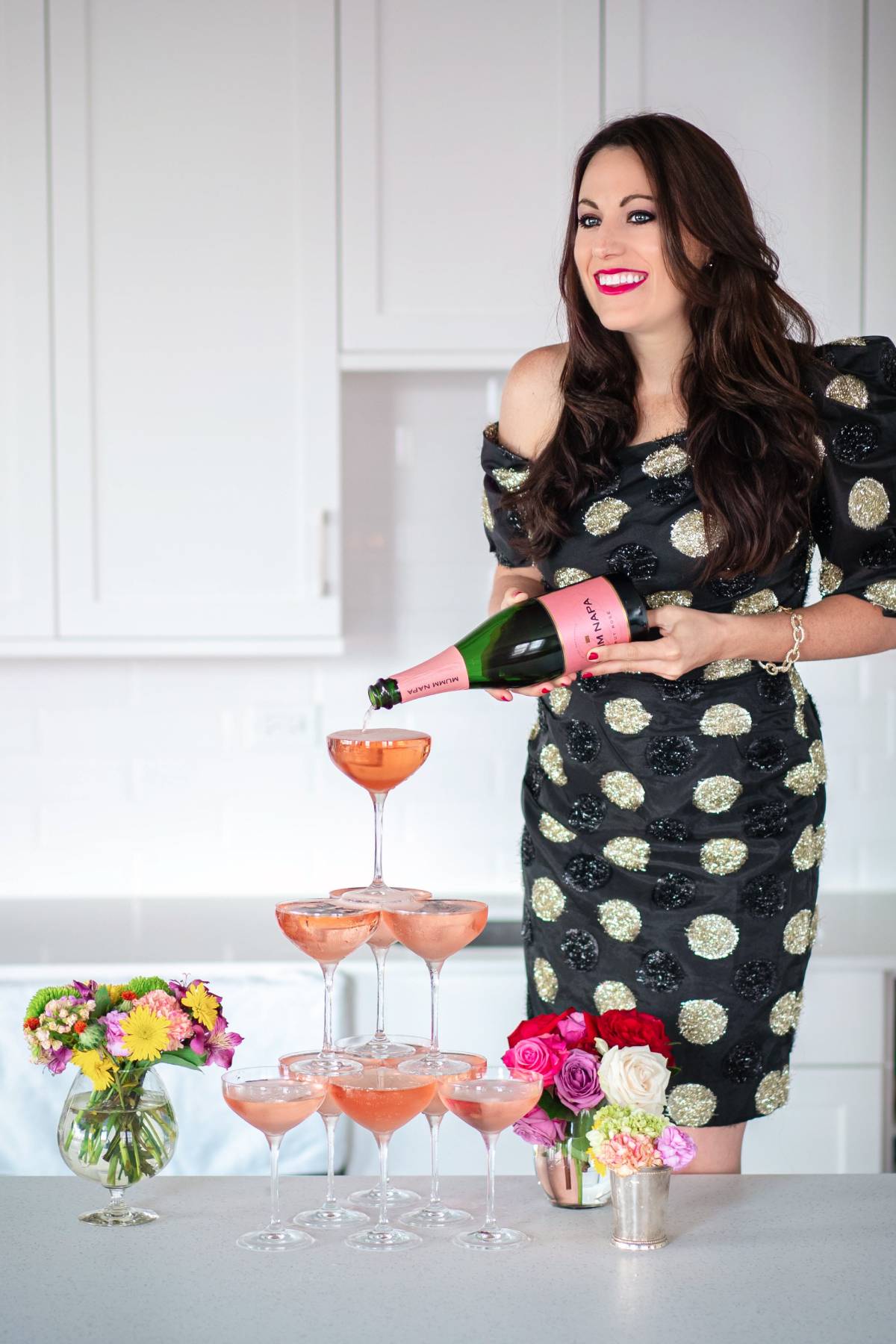 Let's Get to Know Natalie Migliarini
---
Tell us more about you moving to NYC real soon to grow the business further. What are your plans? Who are the persons or brands you want to work with?

With Beautiful Booze being fully digital since its conception I have had the opportunity to work with companies all over the world, however, there is an overwhelming number of clients that are based in NYC. I just feel that if I were able to attend events and meetings with these digital partners and build stronger connections this would lead to bigger and better opportunities for Beautiful Booze. The company is doing better than I could have ever expected when I launched in 2013, but I know I still have a lot of growth opportunities if I just take the chance. As they say; Go big, or go home, and for me NYC is going big.

Can you tell us more details about starting a collaborative bar apron line with Lucio Tailoring Co.?

I met Marie, the founder of Lucio, at a few events and we fast became friends. She is amazingly talented and an equally amazing businesswoman. Her company, Lucio Tailoring Co. has been an amazing partner for years now, and a few months back we decided to take our partnership to the next level with a collaborative line of Aprons.

What companies have you worked with for doing social media management, consultation and content development for hospitality-focused brands and individuals?

That is a SUPER long list. After working full time on Beautiful Booze for over 7 years now, I have enjoyed working with a variety of brands including liquor companies, barware, glassware, tourism and hotels. I am so grateful for every client and new project that I have the opportunity to work on.

Can you tell us about how you do influencer networking for hospitality-focused brands and individuals?

There are a lot of big companies that focus on these types of projects, and I have worked with a lot of them in the past. I find that my approach is slightly different to what you may see from these larger companies though. With my insight to the influencer side of things I bring a different perspective to the whole system. One of the big pillars I discuss with clients from the beginning, is the value of nano-influencers and how finding people with a real passion for a product is so much more valuable to the company than just paying someone who doesn't have a passion for it.

How do you merge your passion about cocktails to education and empowerment?

One thing I loved doing pre-covid was attending bar shows around the world and speaking about my love for social media.

What has been your most proud moment in cocktail styling or your most expensive or most valuable cocktail concoction for you?

My most proud moment was releasing my book- Beautiful Booze: Stylish Cocktails to make at Home.

What are your best achievements you can share as a professional in this industry?

Beyond my book that I published last year -my biggest achievement has been the freedom to travel around the world fulltime for 5 years to learn and discover bars, distilleries, food, wineries and destinations. As well as the opportunity to meet some of my followers along the way.

Who or what company have you worked with that is very memorable to you? Maybe a popular person or group that you think it is an honor to collaborate with them.

I love working with Lucio Tailoring as I love supporting Women owned businesses.

How do you make sure you are updated with the latest trends in creative cocktail concoction? What website or Youtube channel or any mentors do you follow?

For the past 8 years I have pretty much spent 24/7on Instagram but I have found that staying true to your own style is an effective way to connect with your audience instead of always pushing out viral content. I love viral content but in the long term you want to offer your audience something valuable and uniquely you.

Is there anything else that you wanna share that we haven't asked about?

One of my biggest social media achievements was being able to combine my obsession with cocktails and merge it with travel. I love sharing recipe with my audience but it is also so amazing to feature bartenders, bars and distilleries around the world. I love taking my followers on a bar crawl journey through my favorite destinations around the world. I love recommending my favorite bars around the world to my followers.

When you are not doing your work, what are other things not related to this that you do to keep you sane?

Is drinking wine considered not related? In all seriousness, I feel like I am always working on Beautiful Booze. If I have time off, it is usually spent eating at a great restaurant or drinking wine at a cool local wine bar. When I'm done for the day, and need to zone out, you'll find me binge watching 90 Day Fiancé.