Looking To Become a Bartender?
Bartending can be a wonderful way to make money, a complete headache, & an enjoyable experience, all in the same night. On one hand, you're always in the middle of the party, with everyone clamoring for your attention. At the same time, you're busy at work with a million things to do while a party is going on around you. Good customers make for good conversation & nice tips, while bad ones complain about the service & tip you loose change.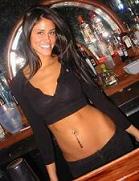 Nights of udder boredom are intermixed with moments of hurried panic. Bartending is not for everyone, but for some there is no job that better suits them. Bartending is not something you think you might want to do; you're either interested or you're not. If you are reading this, it is apparent that you're interested. And if you're interested, why not go for it.
The beauty of bartending is that it is easy to have as a part time job. You don't have to make a career change to bartend…you just pick up a couple shifts a week. Granted that at first you have to earn your stripes; that is to say, you'll wind up working slow nights & not making much. But once you have established your bartending abilities, you will likely be making good a nice chunk of spending money, & mostly in cash.
Bartending Schools
So, do you need a bartending license to bartend in NY?
?
There is no need for any official certification to become a bartender, nor is there any such thing as a "bartender's license". Don't think that you need to go to school to get any sort of governmental license to bartend. However, a reputable bartending school is a great place to gain a general knowledge of bartending technique, equipment & how to mix a few drinks. Read Shawn Soole's bartending series.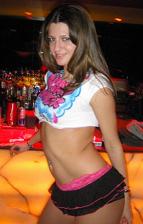 The bartending school industry, taken on a whole, is a shady business. Many will show you plaques that say they are approved by a very official sounding association, but these organizations are often either completely fictitious or groups organized by the owner of the bar school strictly to attempt to legitimatize the school. Check with the Better Business Bureau before submitting payments to any bartending school, or bartending job placement agency. Many of these are scams designed to sucker would-be bartenders who have had difficulty finding a job. For some good leads, check out our bartending schools section further down on this page.
Getting a Job
Unfortunately for those looking for their first bartending job, experience is often key. Though personality & presentation are very important aspects, lack of bartending experience makes things tough. Small local bars, or dive bars typically have only a few employees, who usually don't make that much anyway. Major chain restaurants often have policies that strongly favor internal promotion. Larger clubs are typically difficult because they need bar staff who can handle as many customers at once as possible.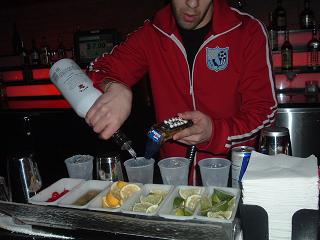 Even with a bartending certification in your hand, the odds are still against you getting hired directly to bartender. You are much better off starting by looking at medium sized bars or nightclubs by applying to bar back. A bar back is generally responsible for keeping the beer stocked, ice tubs full & bringing clean glasses out from the dishwashers, for example. When it is busy, the bar back is generally called upon to assist the bartenders with simple service, such as bottle & draft beer. Naturally, this progresses into mixing well drinks (drinks with one kind of house alcohol). Eventually, you are handling all kinds of drink requests. Management sees that you are functionally a bartender, & you wind up with bartending shifts on some of the slower nights, or as a second bartender on busy nights.
As I said before, bartending is not for everyone, nor is every bar for every bartender. Though you often have little choice over where you start, make sure you know where you want to end up. The bartender at a local neighborhood dive is a much different breed than one working at a fast paced bar or nightclub. Put either one in the shoes of the other, & they will be drastically out of place. Finding your "fit" is key. Do you want to hustle & make money quick or do you want to be able to engage in conversation? Do you want to talk, or do you want to have to have people yell their orders into your ear? Do you want loud music & bright lights, or do you want a dim room & a jukebox?
We hope this instructional has helped. Please feel free to contact us at info@newyorkbarstore.com & let us know if this has helped or not! We'd love to hear some great stories! Also, don't forget to surf over to read Shawn Soole's bartending series to get the insights of how it feels to be a bartender.
Find New York Bartending Schools Today Want to learn what it takes to be a top bartender in the greatest city in the world – then attend a top bartending school in NYC today. We have a list of various bartending schools here to check out.
---
Feedback from one of our Readers!
5/01/2007
Well the insight into the bar lifestyle has helped a lot. I just learned the other night at a club, that you dont really need a license, just experience. I already started with barcareers.com to get my license. The good thing though I'll have some of the bartending knowledge down. I learned what exactly a bar back is on your page, and the bartender i was talking to about the job, told me to come back and i might be able to get started as a bar back. It's too bad I didn't do my research before hand, but oh well. Thanks for the tips, and the articles are great.
I'm from California and I might be traveling to ny soon… so I'll come by for a drink if i make it there.
Victoria Rodriguez
California