Growing up I was a scotch and Coke guy but in 2013 I went to a masterclass and listened to an Australian whisky Icon who has been in the industry for years, along with a Scottish Whisky Ambassador. I sat there and listened to the two experts share their wisdom about the whisky-making process, the flavour profiles and their love of whisky. From that moment I was hooked.
There is something about tasting the first dram out of a fresh bottle, pouring the golden liquid into a Glencarins, lifting it to your nose and inhaling the fresh fruit, smoke, peat, or any one of a million variations. Moving onto the taste, and the exhilaration of rolling the Whisky around your mouth with your eyes closed, picking up all the subtle flavours before swallowing it and feeling the warmth flow throughout your body. And lastly the lingering taste, unique to each dram, with some disappearing quickly, others leaving behind a waxy or oily feeling, but, all begging for you to pour another.
Over the years I have travelled around the world and been a member of different Whisky Clubs (Australia, UK, Bali) and started my own informal ones in Australia and abroad and I have loved sharing my knowledge with anyone that will listen. There is nothing better than having a number of bottles on a table, surrounded by new and old friends discussing the subtle differences that we all smell or taste and debating which is better or comparing age statements, versus non-age statements, or finishing styles.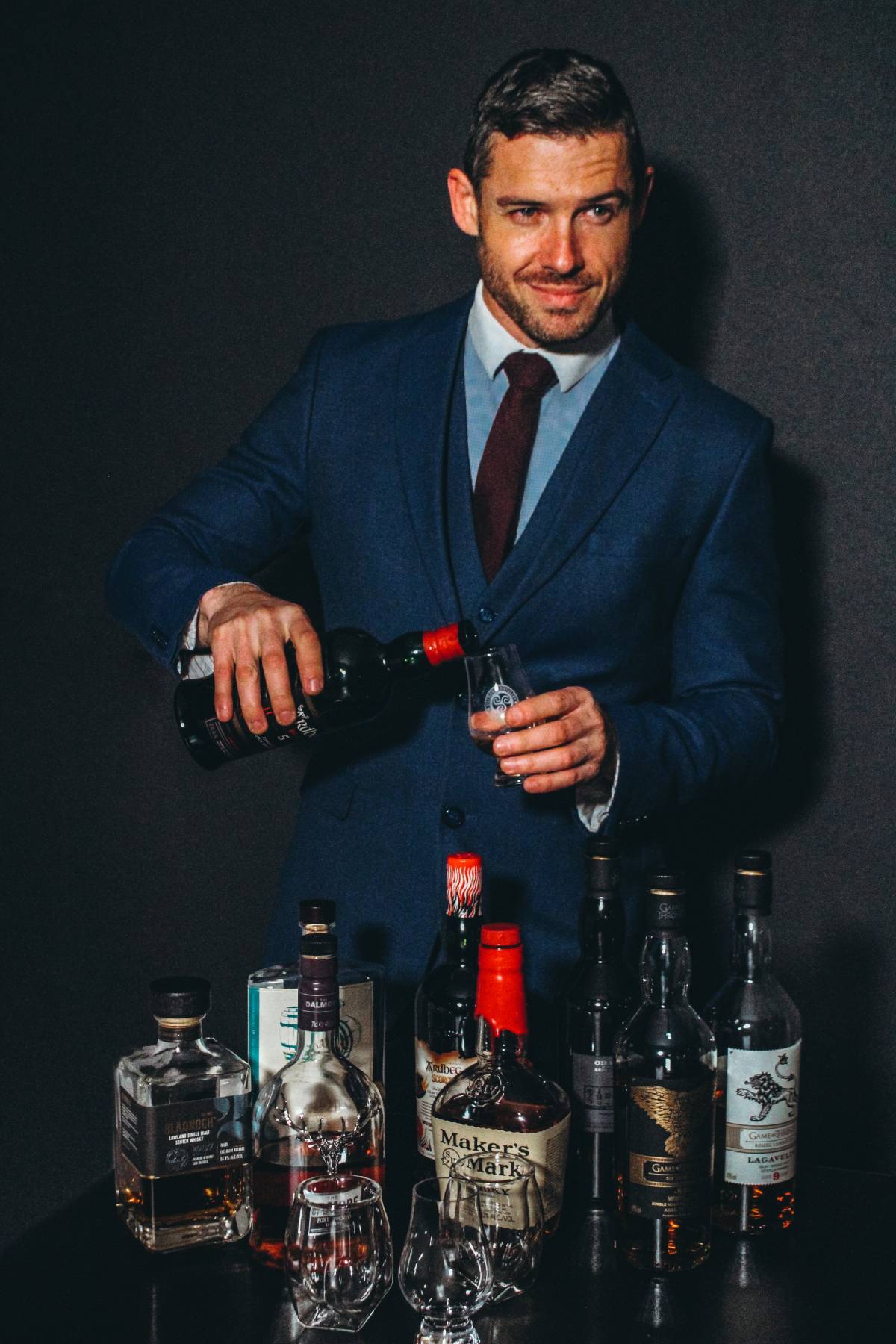 Informal groups are a great experience, however, The Birmingham Whisky Club was a huge eye-opener as to what a proper club could be. Each month we had ambassadors from distilleries and Independent Bottlers, sampling the best whisky Scotland and abroad had to offer. Once a week we would meet at the bar or take it on the road; for example sampling a collection of Kilohman on the Birmingham Canals, or Paul Johns Whisky during a private screening of Darjeeling Limited. Birmingham was definitely an experience I won't forget, along with the people I met, some of which have even created YouTube channels including No Nonsense Whisky, and are bottling their own expressions.
Currently, I have started the Brisbane Whisky Scene to share to own experiences and local events. When I moved to Brisbane, I found that every whisky bar shared its events in different locations, so my goal is to have a central location where locals can find events and share their knowledge. To date, I have made contact with a number of Australian Ambassadors and local Whisky bars, and enjoy attending whisky dinners and bars to share my knowledge and hear stories of the distilleries and the ambassadors, many of who have travelled around the world and met several master distillers.
Despite no formal training, Whisky has become a big part of my life and definitely formed a major part of my identity and I look forward to seeing what the future holds.
Let's Get to Know Mark Modra
---
Can you tell us the exact name of that masterclass and share more information about that Australian whisky icon + Scottish Whisky Ambassador you were talking about that happened in 2013?

Growing up I was a scotch and Coke guy but in 2013 I went to a masterclass for the Adelaide Whisky Live and listened to an Australian whisky Icon Nathan DeTienne (Dramfull Whisky Club) and who has been in the industry for years, along with a Scottish Whisky Ambassador, Laura Hay. I sat there and listened to the two experts share their wisdom about the whisky-making process, flavour profiles and their love of whisky. From that moment I was hooked.

To someone who is a whisky noob, how will you explain the whisky-making process, flavour profiles and your love of whisky in a very basic and short way?

Most whiskies have three main ingredients: Barley, Yeast and water, however they can include corn or rye instead of barley. The basic process of making whisky is to start with barley which has been motioned and left to sprout releasing the sugars before it is removed and left to dry. The dry sugar filled barley is ground up and mixed with water to release the sugar. The next step is fermentation where yeast is added which converts the sugar to alcohol over several days before being distilled. During the distilling process the alcohol is heated and passed through a still to increase the alcohol content to 60 – 70% and remove the impurities. Once distilled the alcohol is placed into barrels and left to mature. Each country, and distillery, do the process slightly different resulting in a wide variety of flavours, colours, and alcohol percentages.

Despite only have three main ingredients, most of the flavour of whisky comes from the barrel in which they store the whisky in. If you have an ex bourbon barrel you may find sweet, creamy caramel characteristics, while a sherry cask you get much more of a fruity rich flavour and finally Oak you get a vanilla, woodiness flavour ; however distilleries also use wine, brandy and rum casks which all provide a unique flavour profile. Therefore I love whisky, each and every bottle is unique and different, and I love exploring these flavours. How is it being a member of different whisky clubs? What's the different to join the one in AU, UK or Bali?

Belonging to a whisky club is a unique experience and no two are alike. I have belong to very professional clubs with access to many ambassadors including (Birmingham Whisky Club) and much less formal ones, ones I've started which includes a few friends meeting for a drink, which often includes myself providing tasting notes and a history of the distillery, and ones in the middle which are more professional, however still feel like friends catching up monthly for a drink (Qld Grand Central Malt Whisky Society). To join a club, there is usually only two requirements, a desire to learn more and be open minded to a new experience. The only real difference between whisky clubs around the world is the access to whisky and ambassadors and they way in which nights are organised, however for the most part you will have a selection of whiskies and an ambassador or club member providing tasting notes and histories of the distilleries.

Is there a joining fee or any kind of academic/professional background in order to be accepted?

For most clubs there is a small one-off fee for the month to cover the cost of the whisky, however there is no academic / professional background to be accepted.

About your very own whisky club in AU - how can you encourage us to join?

I currently belong the Queensland Malt Whisky Society (QMWS) Grand Central in Brisbane and we meet the first Wednesday of each month. Joining any whisky club is a great way to share your knowledge, meet like minded people and just have a relaxing evening sampling whisky that you may not have experienced. The QMWS is a great club to belong to and we spend a few hours each month exploring different whisky regions, cask finishes and distilleries in a friendly atmosphere. I can't recommend them enough, and highly recommend joining a club if your interested in learning more.

How do you keep updated with the trends in the whisky world? What blogs or Youtube channels or any social media platform personalities do you follow and for what?

A great way to keep updated with the whisky industry is to join the "friends of" of as many distilleries. Almost every distillery has their own club where you can learn more, be given access to discounts and unique samples or even just hear news before anyone else. Other ways include going online and following brand ambassadors on Instagram and Facebook to hear of whisky tastings or new editions to the Australian market. Finally attending events like whisky dinners and events like Whisky live are a great way to network.

Blogs I follow include NoNonsense whisky, The Whisky Tribe, and many distilleries newsletters and sites. I follow a number of Australian Brand Ambassadors, who usually represent a number of whiskies, including Shane Batchler (Bladnoch), Brady Retschlag (Bowmore, Laphroaig, Makers Mark) and a number of others through Instagram and Facebook to keep up on upcoming events.

What brands of whisky do you personally recommend?

I love Islay whiskies, anything with smoke and peat, including Laphroaig, Lagavulin, Ardbeg, Bruichladdich, Coal Ila, Talisker, Port Charlotte, but also Connemara, Highland Park, and the list goes on and on, but safe to say I love and recommend many brands.

If we are visiting Brisbane, where can we find the local bars or restaurants that serve the best whisky, the worse whisky (no need to share the name), the most expensive whisky and the cheapest whisky?

If you visit Brisbane and want some amazing whisky, I would highly recommend Electric Avenue, Savile Row, Death and Taxes, Cobbler, Malt Traders, Grape Therapy and The Gresham to name a few, as they have a large collection of whiskies and bartenders who have a vast collection of whisky knowledge. There are also several locations that hold whisky dinners which are spread across Brisbane throughout the year, which are a must see and always include amazing local cuisine.

If you're looking for the most expensive whisky there will definitely be a few at Savile Row, Death and Taxes and Cobbler ranging from $10 up to $600+ for a single dram

Why do you think whisky is not as famous as wine?

Whisky in certain locations hasn't proven to be as popular as wine, however Australia is a great example of a large number of distilleries which have popped up over the last 10 years, with many winning awards around the world including Starwood, Lark, Fleurieu Distillery, Archie Rose and Sullivans Cove. Australians have also broken into the Scottish whisky market by purchasing Bladnoch Distillery which has a 200-year heritage in the Scottish Lowlands producing some excellent and unique bottles. Whisky is becoming more accessible, especially with Facebook groups such as the Whisky Tribe out of the US, which provides excellent reviews and breaks whisky down into simple terms, without being pretentious. Whisky is for everyone, not just the elite few and should be enjoyed.

What is your biggest accomplishment in the world of whisky?

The biggest accomplishment I have is starting Brisbane Whisky Scene and working with ambassadors and local bars to promote several events showcasing whisky from around the world. I love to share my knowledge and experience with people who are keen to learn more.

Any upcoming projects or plans that include collaboration of other whisky lovers in Brisbane or even outside?

Future projects include running my own whisky events while partnering with ambassadors and local bars to help promote the Brisbane Whisky Scene. I can't wait to see what the future holds.