Order Custom-Printed Cocktail Stirrers and Picks for Your Restaurant, Bar or Nightclub!
Order direct! Branded Stirs produces custom-printed and custom-designed cocktail stirrers, garnish picks and select foodservice items for image conscious establishments. Upscale your beverage service and promote your unique image in a fun and cost-effective way.
Styling: We offer a variety of shapes, sizes and plastic colors to suit your needs. If you're looking for more of a unique design to project the brand of your establishment, consider a custom-molded stirrer or pick. From special shapes to custom colors, our Customer Service staff can assist you in creating an item made just for you.
Printing: Most all our products can be printed with up two ink colors and on both sides.
Turnaround: Printed products are shipped out three weeks after art approval. Custom-designed items require a six week turnaround due to the special molds required for manufacturing.
FREE Shipping: Shipping within the continental United States is included in all our prices.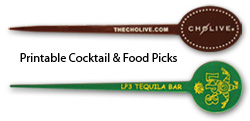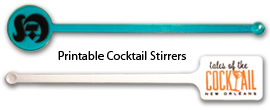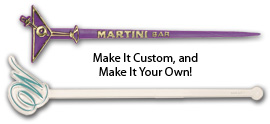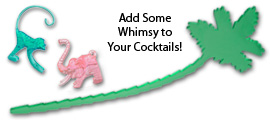 Printed Cocktail Stirrers average .18/each or less for a one-color, 10,000 piece order! Remind your customers who served up their liquid pleasure with a custom-printed cocktail stirrer today.
pPrinted Cocktail & Food Picks average .16/each or less for a one-color, 10,000 piece order! Ideal for cocktail garnishing or for promoting specialty sandwiches or new menu items.
Custom-Designed Cocktail Stirrers and Picks average .10/each for a quantity of 50,000! (+/- a few cents based on the complexity of your unique design and print requirements). Call Customer Service toll free at 866-551-7377 for a quote today.
Themed and Classic Stirrers and Picks are also available. Prices and quantities vary. Themed cocktail accessories are a great way to liven up your cocktails and bring a smile to your customer's face.
We also offer one-color printing on Wooden Stirrers and Picksfor a more natural appeal, as well as Foodservice Items like printable Sea-Shellers for opening crab legs like a zipper!
Higher quantity orders receive even more competitive pricing. Inquire Today!